This coming Saturday evening and Sunday are Tisha B'Av - the Ninth of Av - the saddest day of the Jewish calendar - marking the destruction of our Holy Temples in Jerusalem. On this day, we fast and pray. We do not eat, drink, wear leather shoes, groom ourselves or do many other things (read more here and here).
We will be hosting special Tisha B'Av services unlike those held on any other day of the year.

Saturday night schedule:
7:52 pm Fast Begins - We do not eat or drink from this time.
8:26 pm We do not wear leather shoes or sit on a regular chair from this time.
8:33 pm Shabbos ends
8:35 pm Tisha B'Av Program Begins at Chabad
Maariv, Reading of Eicha (Lamentations), Live feed to the Kotel, and
Film Presentation: New Documentary: 'with my Whole Broken Heart' (see below)
Sunday Morning Schedule:
8:00 am Shacharis (without Tallis and Tefillin)
8:30 am Torah Reading
9:15 am Reading of Kinos & Lamentations
10 am Study about the First & Second Temples and Tisha B'Av
Sunday Evening Schedule:
7:00 pm Mincha WITH Tallis and Tefillin
8:19 pm Fast Ends & Havdalah
May this day turn into a day of joy with the coming of Moshiach Tzidkeinu speedily in our days!
Rabbi Zalman Carlebach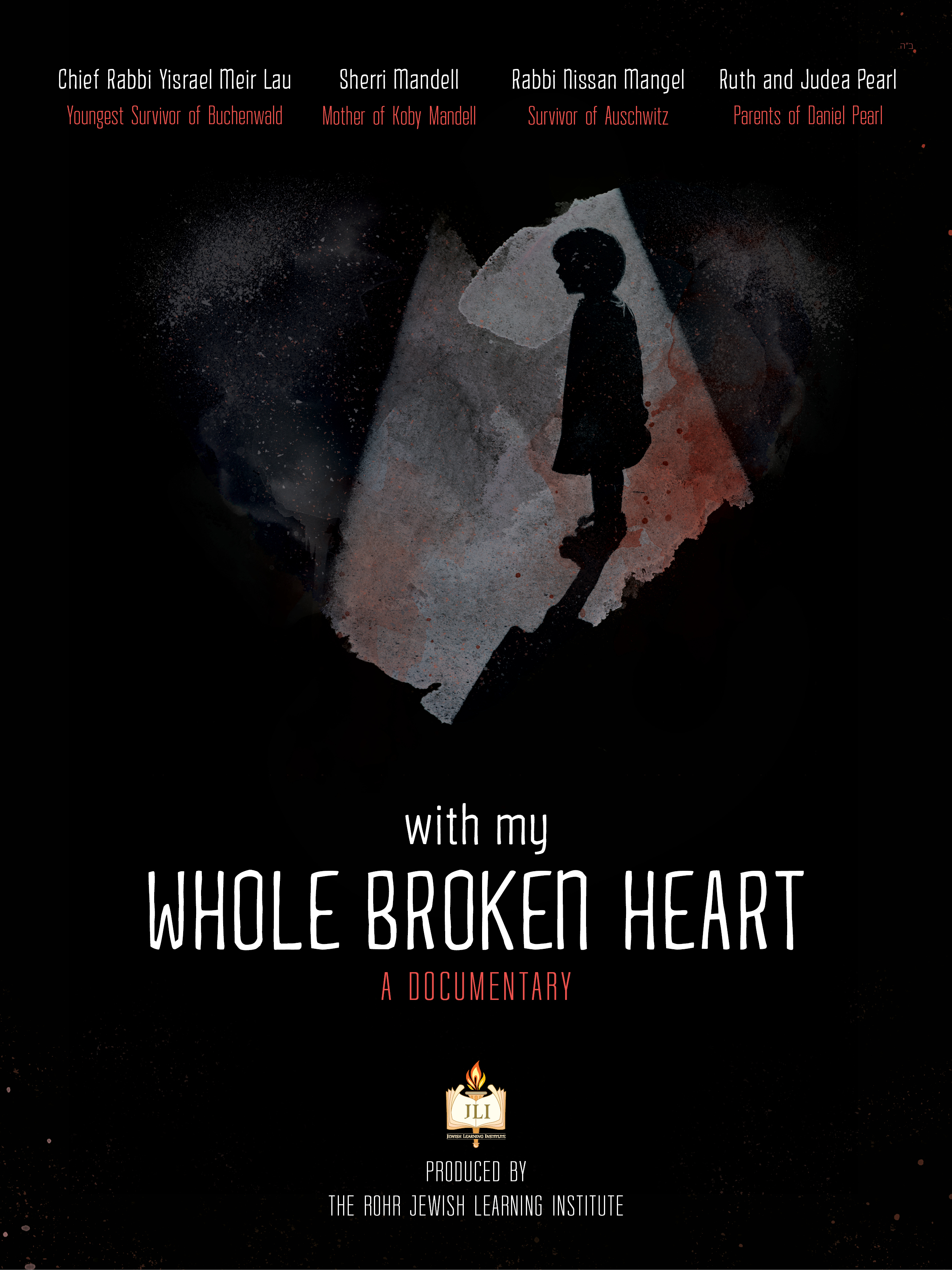 A NEW DOCUMENTARY AND TISHA B'AV PROGRAM
In the summer of 2001, two Jewish teenagers were hiking near their homes in the West Bank when they were stoned to death by Palestinian terrorists. A few months later, Daniel Pearl, a reporter for the Wall Street Journal, was kidnapped and murdered in Karachi, Pakistan; his last words: "My father's Jewish, my mother's Jewish, I'm Jewish."
With My Whole Broken Heart is a professionally-produced and emotionally-gripping 45-minute film featuring heart-wrenching stories of valiant parents whose children's lives were claimed by terror and their inspiring responses to their horrific experiences. The documentary also follows the lives of two of the youngest survivors of Auschwitz and Buchenwald who emerged from the darkness and transformed the Jewish landscape.
The film is framed around the Rebbe's response to the 1956 terror attack in Kfar Chabad that claimed lives of 5 students, and features interviews with Daniel's parents, Ruth and Judea Pearl; Sherri Mandel, mother of Kobi Mandell; former Israeli chief rabbi, Rabbi Yisrael Meir Lau; and Rabbi Nissan Mangel.

LOCATION Chabad, 308 G Street, S Diego, CA 92101
DATE Sunday, July 26, 2015
TIME 8:00 PM
PHONE 619-702-8518
WEBSITE www.ChabadDowntown.com