Join us for Shabbos   in Downtown S Diego!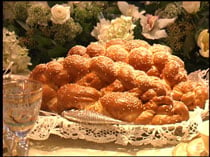 Friday night
Candle Lighting
5:00 pm Kabbalat Shabbat Services
followed by Shabbat Dinner -  RSVP required

Shabbos Day
9:15 am Torah Class
10 am Shacharis & Torah Reading
followed by a light Kiddush or Luncheon
Sign up today - Click here
Sponsor a Shabbos Dinner in honor of a birthday/anniversary/yartzeit.

Dinner Sponsor $1,000 - Cosponsor $500
Kiddush Sponsor $360 - $500
Candle Lighting Sponsor $180
Challah Sponsor $100

Click here
to contribute.
Please include the occasion.